What is a Shrine? Discover The National Shrine of Mary, Mother of the Church
You might be asking yourself, "What is a shrine?" A shrine is a sacred place usually dedicated to a deity, saint, or other religious figure. It may contain objects of religious significance, such as statues or relics, and is often visited by pilgrims seeking blessings or spiritual guidance. Shrines can be found in many different cultures and religions around the world.
We are a Catholic shrine, The National Shrine of Mary, Mother of the Church. A little bit of heaven is nestled within the Ozark hills of Missouri on 60 acres along Missouri Route 5 between Versailles and Camdenton, Missouri. It is about 20 miles north of Camdenton and 17 miles west of U.S. Business Route 54 at Lake of the Ozarks. The Shrine honors mothers of all denominations, not just Catholic, and is known colloquially as the "Mothers' Shrine."
A Catholic shrine to Our Lady is a holy site dedicated to the Virgin Mary, the Mother of Jesus Christ. These shrines are often places of pilgrimage for Catholics seeking spiritual renewal or healing. The devotion to Mary is deeply rooted in Catholicism, and many believers consider her a powerful intercessor and advocate for their needs and intentions.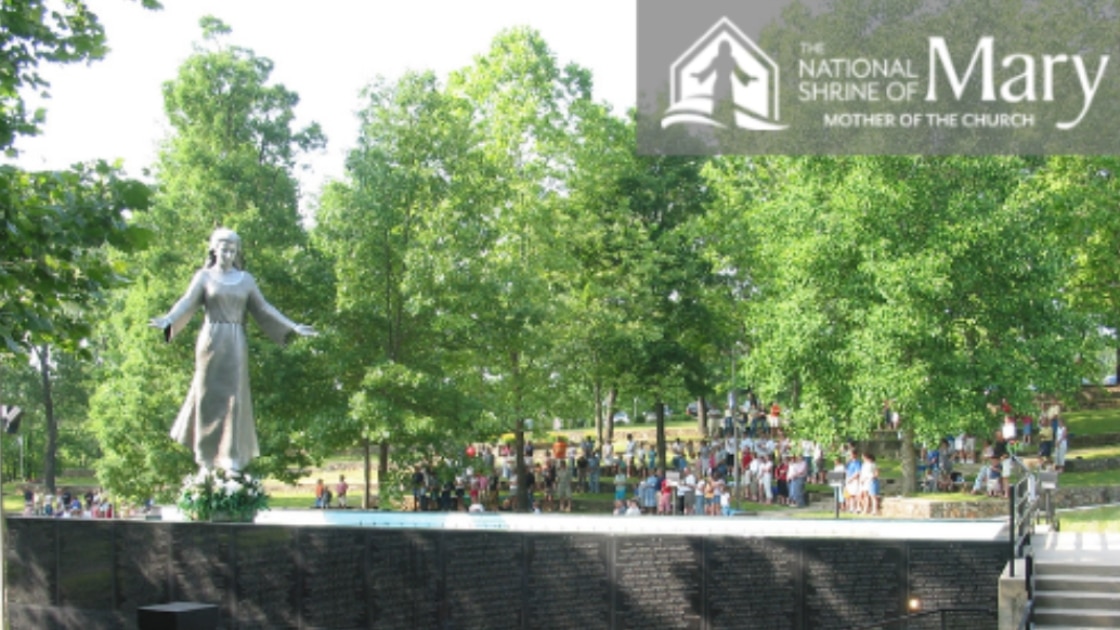 Shrines dedicated to Mary can take many forms and be located worldwide. Some of the most famous include the Shrine of Our Lady of Guadalupe in Mexico, the Basilica of Our Lady of Lourdes in France, and the Shrine of Our Lady of Fatima in Portugal. These sites attract millions of visitors yearly who come to pray, light candles, and participate in religious services.
What is a Catholic shrine?
At a Catholic shrine to Our Lady, visitors can expect to see a variety of religious symbols and artwork, including statues of Mary, depictions of Jesus and the lives of Jesus and Mary. The shrines often have chapels or churches where Mass is celebrated, as well as places for visitors to confess their sins and receive the sacraments.
You can learn more about our shrine's events by clicking this link.
One of the most important aspects of our Catholic shrine to Our Lady is the presence of relics. These are physical objects associated with a particular saint or holy person and are believed to have special graces attached to their veneration as they are connected to holy persons who were close to God. Relics can include items such as pieces of clothing, bones, or personal belongings. Many Catholic shrines to Our Lady have relics of Mary or other saints on display, and visitors can venerate them by praying or touching them.
Another important feature of a Catholic shrine to Our Lady is the opportunity for spiritual reflection and growth. Many shrines offer retreats, workshops, and other programs designed to help visitors deepen their faith and connection to God. Some shrines also have meditation gardens, walking paths, or other peaceful areas where visitors can spend time in quiet reflection and prayer.
You can send us your prayer requests via this website by clicking here.
Overall, a Catholic shrine to Our Lady is a special place where Catholics can come to encounter the divine and deepen their relationship with Mary and Jesus. Whether you are seeking healing, guidance, or simply a deeper sense of peace and connection, these shrines offer a powerful spiritual experience that can be transformative and life-changing.
You can learn more about what is a shrine by viewing these websites. They offer lists of shrines.
If you have more questions about what is a shrine, you can also contact us directly. Our details can be found below.