Honoring Sts. Joachim and Anne, Parents of Our Blessed Mother
Feast Day: First Sunday after Labor Day

USCCB
Although they are not mentioned in the Scriptures, we find information about Mary's parents, Saint Joachim and Saint Anne, in texts written well over a century from the time of Jesus' life. While some disagree on whether the facts written in the text are historically accurate, the truth is Mary's parents who nurtured her, taught her, and loved her. The holiness of these holy parents and grandparents is inferred from the whole family atmosphere around Mary in the Scriptures.
Mary's deep religious traditions, continuous practice of prayer, her devotion to the laws of her faith, her steadiness at moments of crisis, and her devotion to her relatives, all indicate an upbringing of great faith in a close-knit, loving family.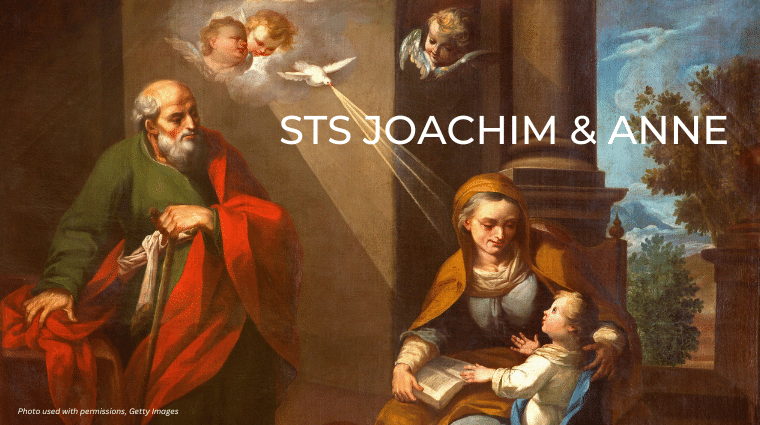 Even though not much is known about Saints Joachim and Anne, devotion to them began to grow as early as the sixth century. Faithful today continue to seek their intercession, especially for grandparents and mothers in labor.
The feast of Sts. Joachim and Anne is a "feast of grandparents," reminding grandparents of their responsibility to establish a tone of love and faith for generations to come. But it is also a feast for younger generations. All are reminded of the greater perspective, depth of experience, and appreciation of the wisdom of older generations. We can all learn from Our Blessed Mother's parents and Jesus' grandparents, Sts. Joachim and Anne.
Here at the Mothers' Shrine, we have an affinity for the love shared between the many generations in family life. We offer a special blessing for all the grandparents among us, especially the grandmothers and "greats" represented on our Mothers' Wall of Life.
The Mothers' Shrine is honored to oversee and manage the conservation of sacred relics of Sts. Joachim and Anne. These sacred relics of those who have gone before us in faith, are a unifying reminder of the universality of our faith and the Communion of Saints. Plan your visit to the Mothers' Shrine to spend time with the sacred relics of Sts Joachim and Anne.
Information for this article was collected from Franciscan Media, Catholic News Agency, and Pope Francis' Message on the Occasion of the XXVII World Youth Day.