A pilgrimage allows for time from the demands of our everyday life to seek God, meeting Him in each person and embracing opportunities to grow in holiness. The purpose of pilgrimage is to grow in faith while on a spiritual journey to a holy place.
Begin planning your group pilgrimage by getting to know what we have to offer. Use this web site to view the places of interest, find accomodations, and get directions. Please contact us to help select a date for your group pilgrimage. We will work together to plan your schedule.
In order to make the most of your pilgrimage to the Shrine, we ask that you book all pilgrimages in advance.
Meals:
Food services are available on the grounds of the Shrine. Catered meals served at the Shrine to accommodate those on a pilgrimage must be scheduled in advance. We have a talented group of volunteers excited to help you plan your menu.  Picnic tables, a picnic pavilion and indoor facilities are available for those individuals who wish to bring a picnic lunch. There are also a variety of restaurants in the area.
Transportation:
If you do not prefer to drive to Laurie, Missouri, you may fly into the Kansas City, St. Louis, Springfield, or Columbia, Missouri Airports, come on the Amtrak train to Sedalia or Jefferson City, MO, or use the Greyhound Bus service. You will need to set up your own transportation from these terminals.
Lodging and Campsites:
Neither the Shrine nor St Patrick Parish can accommodate overnight guests in motor homes or campers. Please check local lodging options.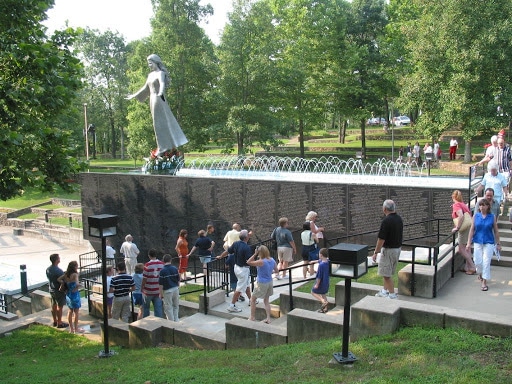 Pilgrim Promise of Joy Prayer
O God, Thank You for calling me
on this spiritual journey to know You more fully.
I promise to embrace with joy
all that You present to me on this pilgrimage.
Bless me to be patient, compassionate
and loving as I meet You in others.
O God, give me the grace
to welcome the unexpected,
to see Your blessing in every moment and
to be awed by holiness wherever encountered.
Please renew me to return home refreshed
and transformed in You.
Amen.