33 Days to Morning Glory Retreat Information & Registration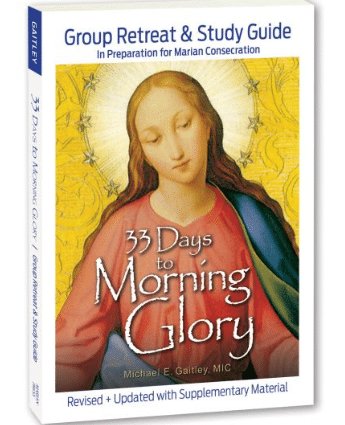 Join us for a six-week small-group retreat in preparation for Marian Consecration. Based on the popular book by Father Michael Gaitley, MIC, 33 Days to Morning Glory, this journey includes daily readings, prayers, and reflections to help us grow in our relationship with Jesus through Mary.
We begin our 33 Days to Morning Glory journey with 5:30 pm evening Mass on April 25 at St. Patrick Catholic Church, followed by orientation at 6:15 pm.
Small groups may meet in person or by Zoom weekly (you indicate your preference), and we will consecrate ourselves to Jesus through Mary on May 29 following the 10 am Feast of Mary, Mother of the Church Mass with Bishop W. Shawn McKnight in the Mothers' Shrine.
Please register now so we can have your resources ready!
33 Days to Morning Glory Retreat Registration