Honoring Mary and Mothers Everywhere

The National Shrine of Mary, Mother of the Church is a place of pilgrimage which exalts the Blessed Mother, calls all to pray and reflect and serves as a Catholic voice promoting motherhood and the integrity of family life.

Discover The National Shrine of Mary, Mother of Church
Fountains
Four large pools of water, adorned with fountains, surround the fourteen-foot sculpture of Mary, Mother of the Church. They glisten in the sunlight bringing beauty and serenity to our Shrine.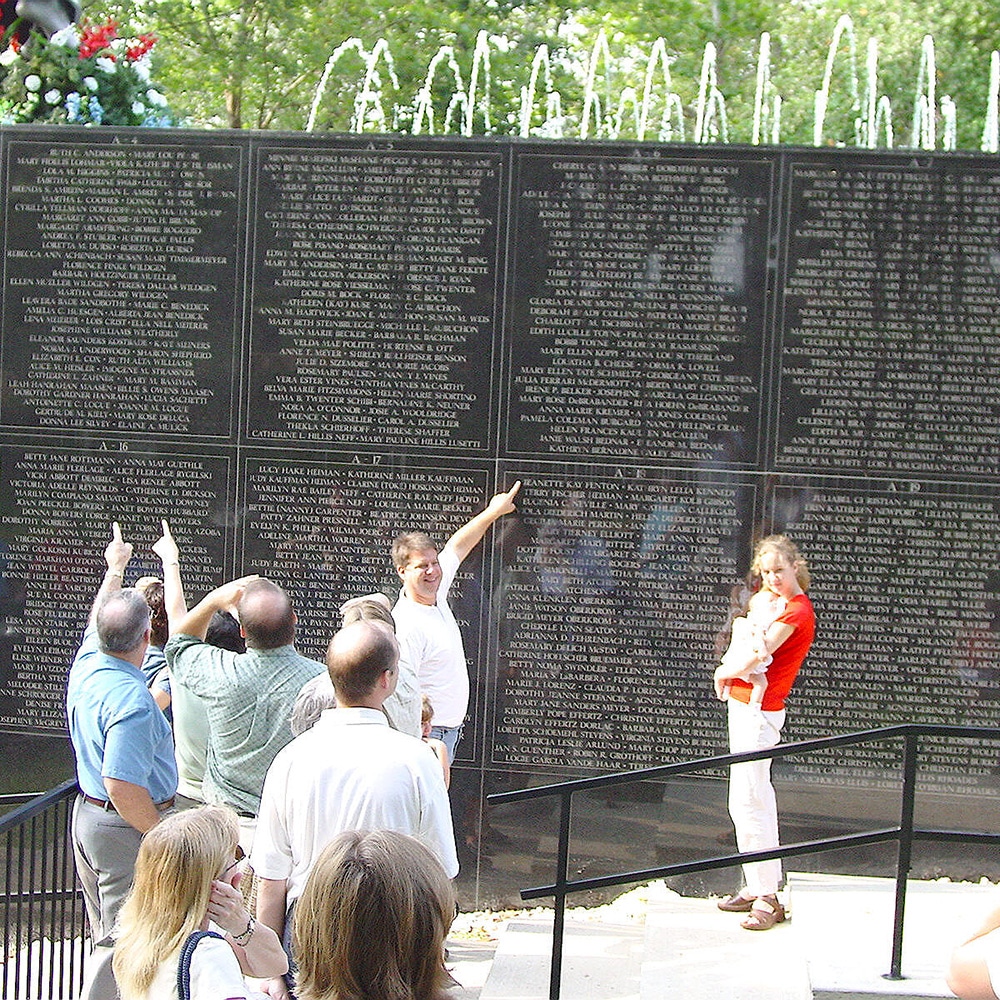 Mother's Wall
The Mothers' Wall features the names of mothers throughout the world engraved in the beautiful polished black granite that surrounds the fountains. Over 4,500 names have been engraved on our Wall.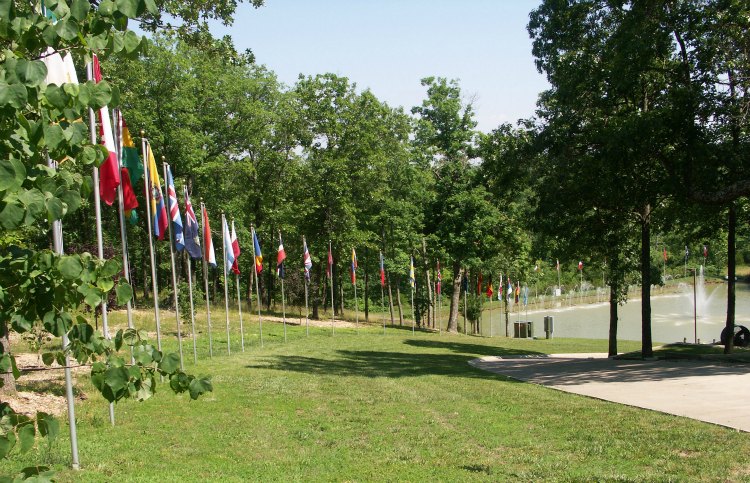 Avenue of Flags
Father Barnett, founder of the Shrine, wanted people from all countries to feel welcome.  He created the Avenue of Flags. There are currently 100 Nations featured in flags surrounding The National Shrine of Mary, Mother of the Church.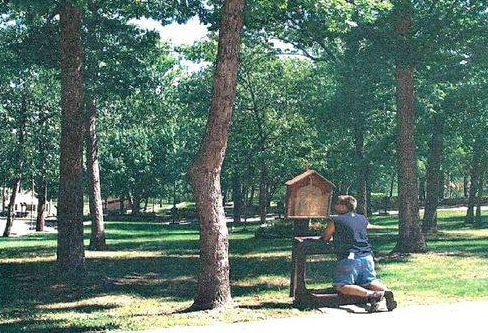 Stations of the Cross
The Stations of the Cross on the Prayer Path were moved from the second St. Patrick's Church in Gravois Mills. Parishioner Clarence Simler built the boxes housing the Stations when the Prayer Path was built in the 1980's.
Our Lady of Guadalupe
The statue of Our Lady of Guadalupe, sculpted by Fr. Andrew John, from Spring Hill, FL was bought by Ethel Bruning of Jefferson City, MO and donated to be placed at the entrance to the Church and Shrine on July 21, 2004.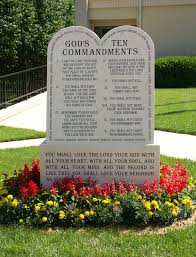 The 10 Commandments
The Ten Commandments are set in stone with the eight Beatitudes on the other side.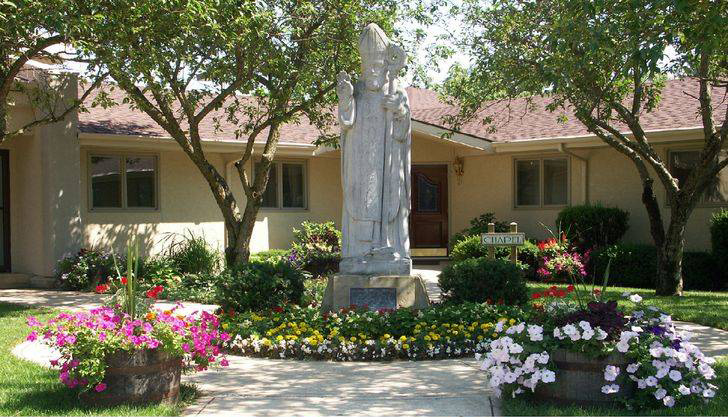 Statue of St. Patrick
The Statue of St. Patrick, patron of the adjoining parish, is carved of Irish limestone and was commissioned by Bishop W.F. McAuliffe, S.T.D., Sculpted by Arthur J. Breen from Dublin, Ireland.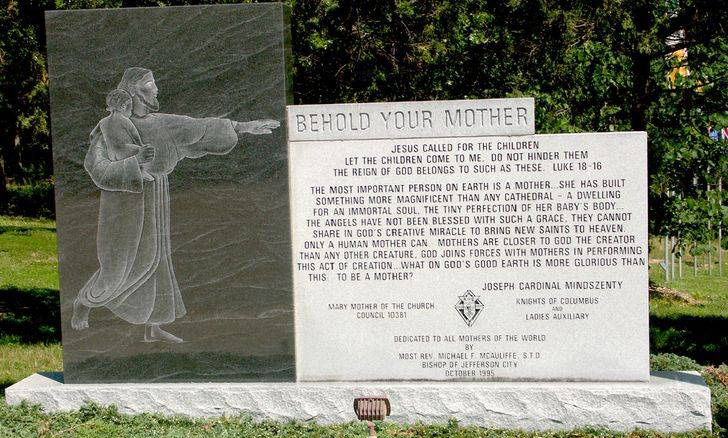 Behold Thy Mother Monument
Written by Joseph Cardinal Mindszenty while in prison, our Behold They Mother Monument, donated by the Knights of Columbus, is inscribed with his beautiful words of tribute to mothers.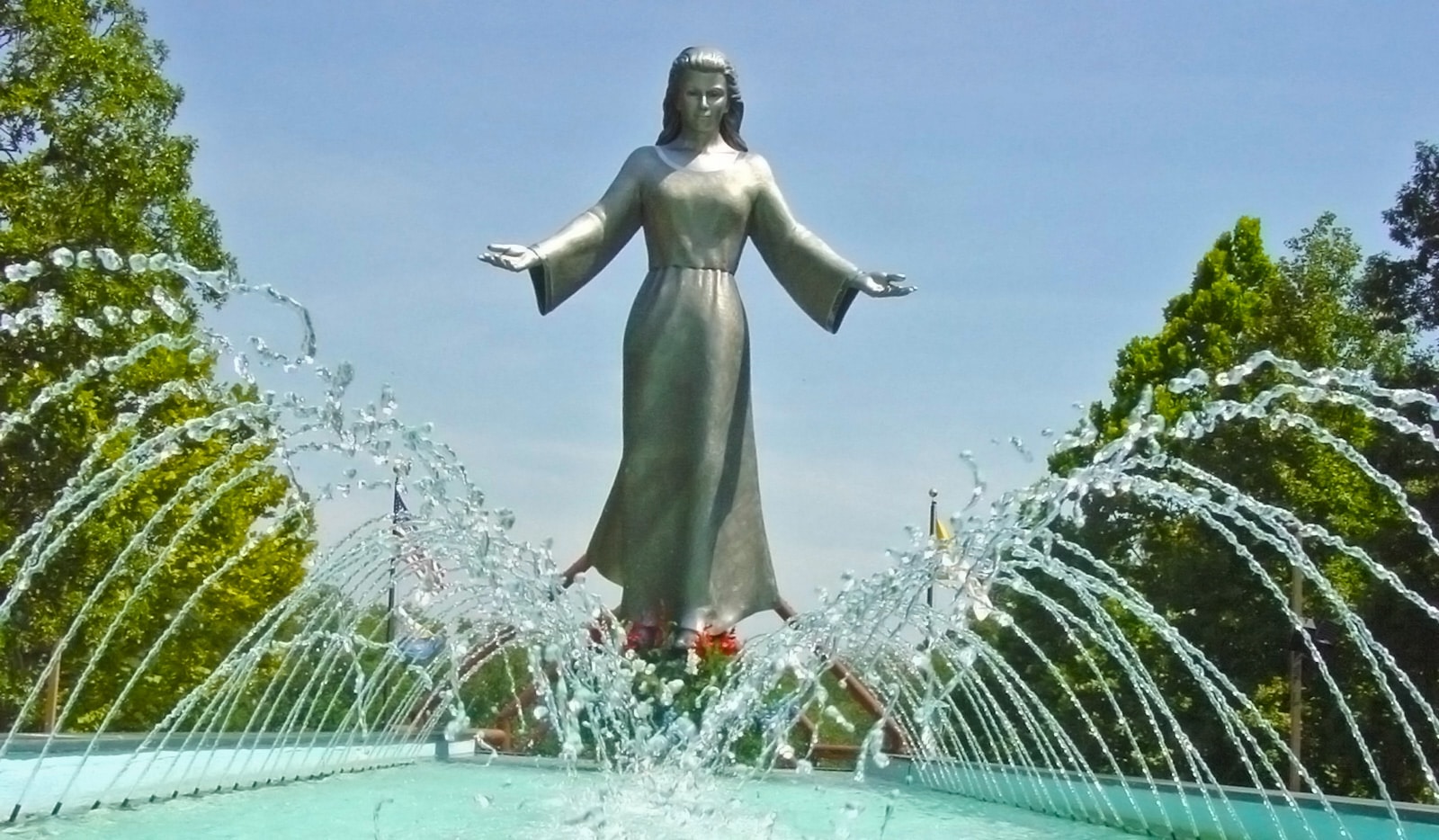 The Sculpture
Sculpted by the internationally renowned Don Wiegand and commissioned by John and Elaine Fabick, our 14-foot sculpture of Mary, Mother of the Church, stands tall overlooking our grounds.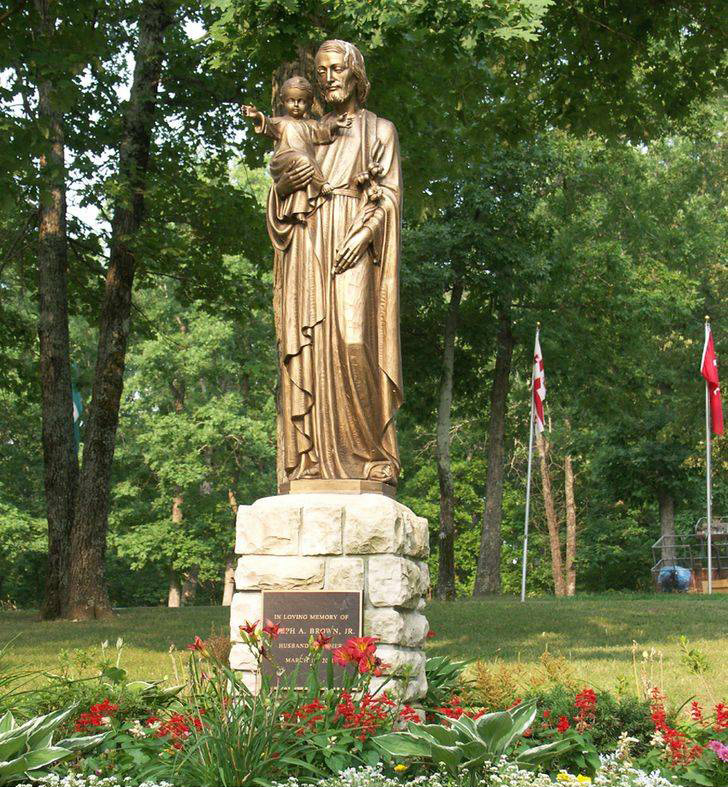 Statue of St. Joseph
The bronze statue of St. Joseph looks down the hill toward Mary and was dedicated March 19, 2000, St. Joseph's Day.  It was donated by Eliese Brown and family in "Memory of Joe Brown".  It was made in Italy by the Demetz Family.
Summer Masses at the Shrine
Memorial Day to Labor Day
Saturday night @ 8:00pm
Sunday morning @ 8:30am
2020 Pilgrimages:
May 16, 2020
June 20, 2020
Sept 26, 2020
Daily Mass
Available at the adjoining St. Patrick parish Tuesday through Sunday throughout the year. 
The Shrine relies solely on the support of visitors like you.  Your generous support ensures the continuation of this unique ministry to Mary, tourists, mothers and families.